There were a few moments last night, during the final October installment of Bonehead Enzo's Storytime Theater, where I thought I might be dying. My face was burning so badly from laughing so hard that I was having trouble breathing.
Thankfully, I wasn't the one driving the car.
Sadly, Jeff was, and was undergoing the same near-convulsions as he was relaying the stories. It's somewhat impressive that we made it back in one piece.
***
Who knew that wet cardboard could be so damned funny?
***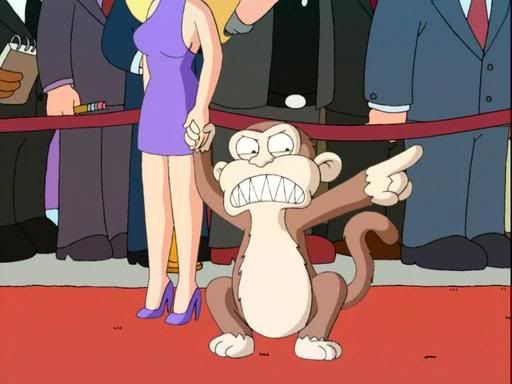 Thursday's viewing of the
Family Guy DVD
was a lot of fun, if only for the several priceless moments scattered throughout.
It wasn't the most consistent
Family Guy
episode, but I don't think it was meant to be. Seeing the Kool-Aid guy again, though... pretty frickin' sweet.
***
After watching the surprisingly good
Batman Begins
on Friday night, I drove on down to (frickin') Stafford to watch some football with Andy and his family. Had a very good time, and his HDTV... it makes me all tingly.
To say nothing of his cooking. For the record, Andy makes a mean batch of wings.
Sadly, his cable company didn't offer PPV buys... and so the Penn State game we were hoping and expecting to watch... was suddenly unavailable. And while we considered going all the way back up to Springfield for the one sports bar we thought would have the game... we (by which I mean Andy) ended up listening to the radio broadcast online.
Which was somewhat underwhelming for all of us, but it didn't turn out badly at all in the end. The Lions pulled out a fairly strong win, thus making Andy's day... which is all that really counts.
That, and his family. Always, always, always good seeing the Hunts.
***
But last night with Jeff... good times. After getting the State of the Lexie address, we headed out for dinner to Crystal City, which has become a bit of a stompinng grounds.
I'm wondering whether I wouldn't live there, after all. Some great places are starting to pop up in that area, and I'd imagine that's only going to continue.
Thoughts?
***
We watched an episode or two of Ricky Gervais' new show,
Extras
, last night. I don't know if Jeff would agree (then again, I don't know if he could make out any of their accents), but I thought the show was pretty sub-par.
Good to see, good to check out, but the comedic stylings of Vinnie Jones are nothing compared to
The Office
. In any way, shape or form.
At least Teso broke out the
John Bellairs
. Who knew?