Though I got a few comments about yesterday's post, none seem to have shown up in the desginated comments section. Weird... I wonder if it's a problem with Blogger?
Maybe, though, it's a problem... with YOU???
Anyway, at the request of one person in particular, I'll return to the land of the stupid.
It's where I'm most at home, anyway.
***
Yes,
my week at

Harmonium
comes to an end today, but don't feel sad.
Check out this unbelievable review
(which includes a link to an even better one) of ex-Creed emoter and Jesus Christ poseur Scott Stapp's appearance at the 9:30 Club. It's pretty damned hysterical.
Bill Simmons-like comedy. Don't take this link for granted.
***
If
this tour
comes through Washington, you can consider me there. I don't care how many of the four show up-- just like it doesn't matter (though this point is debatable) whether you see CSN&Y; Stills and Nash; Crosby, Nash & Young; or some other grouping, it's guaranteed to be a great, great show.
Imagine the opportunity to hear Patton shout "
APPLES!!!
" live, guys! it would be amazing, no?
God forbid Zach shows up, though. My head would absolutely explode.
***
Speaking of tours, I heart
Belle & Sebastian
.
And I heart NPR, for
simulcasting
the March 6 B&S/New Pornographers show that I'm going to be missing. Bless you, NPR, and extra-special thanks for the
Clap Your Hands Say Yeah simulcast
that will be coming up on March 8.
Good times.
***
Generally, me and NASCAR get along as well as Bill and Hillary, but Will Ferrell can make just about
anything
funny.
And look who's in the trailer with him!
Whaaaaaaaaaaammmmy!!!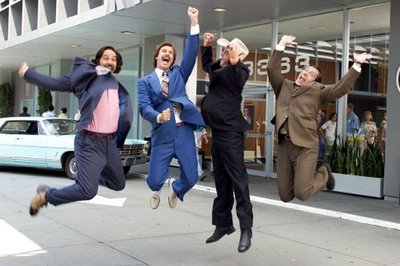 By the way... the over/under on cameos in this movie is 36.
***
This is very
sad
, but not very surprising.
Let's wash that story away with
a bit of fun
, courtesy of Holly.
***
ROAD TRIP
!!!
***
Finally, and coming straight off of that link, comes this.
Look. I know that, despite your best intentions, you're not going to see
Brokeback Mountain
. Not before you've made your ten-thousandth joke about it, anyway.
That said, I also know that you're curious about the movie, what with the Oscars (and your Oscar parties) coming up this weekend...
To that end, consider me your problem solver.
Brokeback Mountain

in 30 seconds, re-enacted by bunnies
.
***
secret machines - alone, jealous & stoned
liam lynch - the critics are smarter
stars - theme from the stars
xtc - too many cooks in the kitchen
julie delpy - a waltz for a night